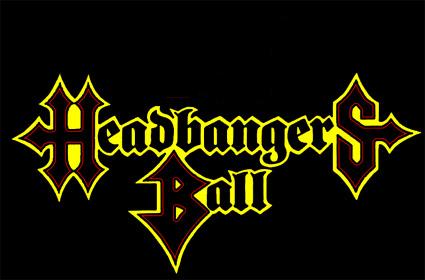 Home Updates Heavy Metal Mania Playlists Message Board
1987 1988 1989 1990 1991 1992 1993 1994/1995 Links
What's up Headbangers? Welcome to the unofficial tribute to the original Headbangers Ball!
I decided to make this site not only because of my own curiosity to know more about the show
since I'm a collector but also for others out there like myself that are fans and collectors of the
show. And also because there isn't a site like this for Headbangers Ball. At least I haven't been
able to find one and I've searched all over. I know there are sites like this for other MTV shows
like 120 Minutes so I thought why not make one for Headbangers Ball?
So, this site will serve as an unofficial tribute to old school Headbangers Ball and it will also
be an attempt at trying to gather any information I can about any old Headbangers Ball shows
that were shown on MTV from 1987-1995. The goal here will be to list all of the shows that were
shown on MTV throughout the years it was on. This will be a show guide if you want to call it that.
This will be hard to accomplish without some help and that's where you come in. This information is
what I have been able to gather so far over several years from different sources but I need your help
to add to it, make any corrections or fill in any blanks that you see.
I can't garantee the accuracy of this list 100% as there is really no way for me to check it
unless I have a copy of the show. That's why I need your help. If you recorded a show back
in the day and have specific information on a show such as the Date, Hosts, Co-Hosts, Guests,
etc. or if you know of any corrections that can be made send them in to
and I will post them as soon as possible. The more information, the better, for everybody.
Well, there's not much to see here yet but it's a start and we will see where it goes from here.
Who knows? Maybe eventually we'll have playlists for each show, a message board, a trading
section and who knows what else. There's still alot of work to do and I'm still trying to think of
some other ideas for the site. If you have any ideas of something you'd like to see on the site,
if you have any info on shows or anything else you want to contribute by all means drop me
The Early Days:
Originally it all started out as a monthly show called Heavy Metal Mania that was hosted
by Dee Snider of Twisted Sister in 1985. Heavy Metal Mania was eventually replaced by
Headbangers Ball in 1987. The first show aired on 4/18/87.
We are also looking for more information on MTV Heavy Metal Mania shows since it is related
to Headbangers Ball. Send in any information you know about this show to
The Birth Of The Ball:
4/18/87 Headbangers Ball debuts the show was hosted by Lemmy Kilmeister & Phil Taylor of Motorhead.
The Hosts Of Headbangers Ball:
Asher Benrubi aka "Smash" (1987)
Kevin Seal (1987-1988)
Adam Curry (1988-1990)
Riki Rachtman (1990-1995)
Scheduling:
From 1987 until January or February 1988 the show was 2 hours from 12 am to 2 am
Then from January/February 1988 it became a 3 hour show
In summer 1990 to October 1990 the show was on from 11 pm to 2 am
Then from October 1990 to June 1991 it was placed back in the 12 am to 3 am time slot
In June 1991 it was moved back to 11 pm for the rest of its run
In it's final year an hour was cut from the show so it went from being 3 hours to 2 hours from 11 pm to 1 am
Credits & Thanks: